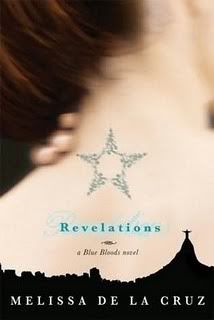 Title: Revelations (Blue Bloods #3)
Author: Melissa De la Cruz
Publisher: Hyperion Disney
Pages: 256


My Rating:
Schuyler Van Alen's blood legacy has just been called into question--is the young vampire in fact a Blue Blood, or is it the sinister Silver Blood that runs through her veins? As controversy swirls, Schuyler is left stranded in the Force household, trapped under the same roof as her cunning nemesis, Mimi Force, and her forbidden crush, Jack Force. When one of the Gates of Hell is breached by Silver Bloods in Rio de Janeiro, however, the Blue Bloods will need Schuyler on their side. The stakes are high; the battle is bloody; and through it all, Carnavale rages on. And in the end, one vampire's secret identity will be exposed in a revelation that shocks everyone. -Summary from goodreads.com
This series rocks! One of the best unique vampire stories I've read in a while. After I finished reading Masquerade, I was dying to know what happens to Sky once she moved into the Force residence... it turns out she isn't adapting very well to her. We learn that Mimi continues to give Schuyler constant crap, even though the girl practically saved her life! But all that is over looked thanks to a small apartment down on Perry St... Ohhh that darn apartment! Definitely my favorite parts in the book! Oliver & Schuyler's friendship is taken to the next level now that Oliver confesses his love for her! I won't lie; I teared up a bit during scenes between Ollie & Sky!
The narrative in the book switches between characters which actually helps the reader better understand what's going on. This book is so unexpected. Seriously, more than once during the story I'd ask myself, "Do I like this character? Can I trust him?" Then all of a sudden, when you think your starting to guess what's going on, it's like BAM! Forget what you thought, this is what's really going on! It's freaking crazy!
Revelations will have you guessing 'til the end! The only thing that makes this read a 4 & not a 5 star (personally) is the ending. HUGE cliff hanger, and not to mention super sad. Just when Schuyler FINALLY has something good going for her.... & Bliss!... oh Bliss!! Ahhhh! Ok, I'll shut up now!
Overall, Revelations still kicked major butt! It's a fast, action packed book where loyalties are tested, secrets are revealed & evil is pretty much unleashed!